Embracing mental health in workers' compensation…
Embracing mental health in workers' compensation…
Nicole Sauk. Sr. Vice President Finance & Operations, Ametros. We recently caught up with Nicole Sauk of Ametros and asked her what she's been up to lately…grab a cup of coffee or your favorite beverage and take a few minutes to catch up with Nicole:
Q. What were your top activities in the last 30 days?
Working on messaging to market / industry that Ametros is not just workers' compensation, but also includes liability components. So doing some training with defense attorneys and self-insured employers
Focusing on a new product roll out: Health Navigator, while simultaneously orchestrating an office move to a larger office space and coordinating all that goes along with that
Wrapping up the school year with my children: I have a nine-year old daughter, just finishing up 3rd grade and a seven-year old son, finishing up 1st grade…and all of their end-of-year activities…balancing this along with my busy work schedule
Q. What is the primary issue, related to workers' compensation, that occupies your thoughts right now?
I have definitely seen a shift in the industry in regards to mental health over the past 10+ years. Before there was a great deal of resistance to having mental health claims and related issues tied to workers' compensation claims. Now there seems to be a lot more conversation around recognizing that mental health issues can stem from work-related issues / injuries and how the industry needs to do more to embrace and better manage those mental health issues.
My goal is to ensure Ametros members experience a seamless transition from workers' comp into our platform. The biggest struggle they have had is denial of treatment…the inability to have their preferred provider, or pharmacy, or getting the medication(s) they prefer. After settlement, they have more freedom and sometimes need guidance in finding these things. So the more our volume increases, we are focused on continuing to be able to provide individualized service and a smooth welcome and transition for members into our platform.
Sometimes injured parties come to us frustrated, discouraged and unsure. We have been conducting a lot of internal training to ensure we stay in touch with the human side of servicing our customers, by putting ourselves in their shoes. We want our team equipped with the right tools and resources to efficiently work with unhappy, disgruntled customers and turn them around so they feel comfortable with us.
Takeaways: I read a great deal on how to handle difficult callers; how to wrap up calls without leaving the customer feeling short changed, cut off, etc. Training and added resources to handle customers who may be suicidal or having other destructive or harmful thoughts. Sometimes IWs have PTSD due to their injury and / or medications they are taking. We are training Ametros staff to use coaching skills and new technology available to assist with difficult situations, particularly members dealing with depression or thoughts of harming themselves.
Most of our staff are not clinicians, so we are training them to listen for certain "active" words so they can better manage situations and to ensure the members are getting the treatment they need. We want to avoid overlooking any signs or symptoms that could be indicators of their situation spiraling out of control. The most important thing we can provide for our members is an ear to listen, and an action plan to help. Mental health issues are not always visible, and can often go unnoticed. Making sure our team is equipped to recognize and properly assist members find the help they need is a top priority.
Yvonne Guibert. Twitter @buzzystreet Jack Wylie, the great adventurer. I took a break from posting in June to give myself a mental break. My father, Jack Wylie, passed away on June 16 at 80 years. He would have been 81 this October 16. He succumbed to complications from skin cancer, which he battled for most of his adult life. I am grateful that we had the help of local Hospice professionals and he passed peacefully at home. Even when you know someone you love is nearing the end of their life, their death, the time when they cease to exist, comes as a shock. I don't mean the kind of shock as in it's a surprise. It's more like a shock to your system…a jolt. I was caught off guard at the depth to which it affected me. I'd been preparing myself mentally for this moment in time for the past two years. I knew that I would need to step up and handle his final arrangements. I knew he hadn't prepared a will, even though we talked about it several times. He just didn't see the need for one. A will meant that he was admitting that the end was near and I don't think he was prepared to admit that, even though he knew it. But, it was certainly his style.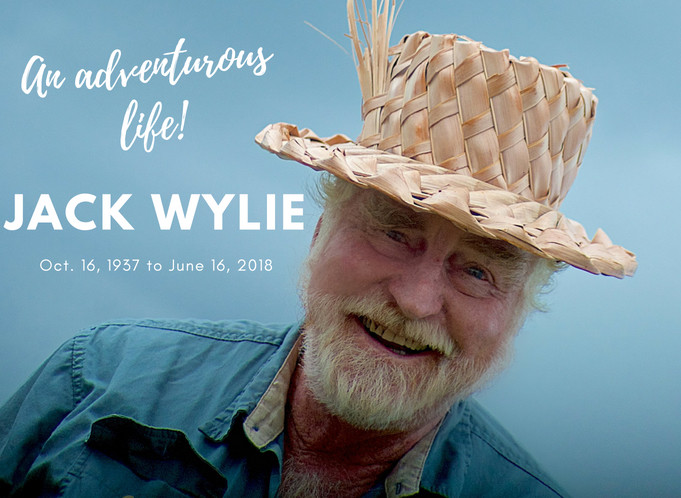 Jack Wylie did everything in life just the way he wanted to — on his own terms. He lived a grand, full and adventurous life. He was an accomplished water skier and flat kite builder / flyer. He skied professionally for Cypress Gardens in Winter Haven, Florida, the World's Fair in Chicago in 1958 and Tommy Bartlett's Water Ski Show in Wisconsin Dells. He traveled the world showing off his water skiing and kite flying talents. He was also an accomplished photographer, sky diver, airplane pilot, tiki hut builder and mentor to countless young men and women, offering up his home on the lake, to drive the boat and teach young people to water ski. Right until the end, he always had the most genuine smile. He was a true lover of life. He loved being around people and he loved to share his life's stories. All my life I can recall how people were drawn to him like a magnet. And there was his infectious smile. So in the late afternoon of June 23, close friends and family of Jack Wylie gathered at his beloved lakefront home in Tampa and shared their best "Jack Wylie" stories. He would have had the best time. Rest in peace, dad. Enjoy your next adventure!